bspoketv and Insight TV Announce "Streetball with Kenny Dobbs" A New TV Series that Dives Deep into the culture, community and the players in world of Streetball.
December 7, 2022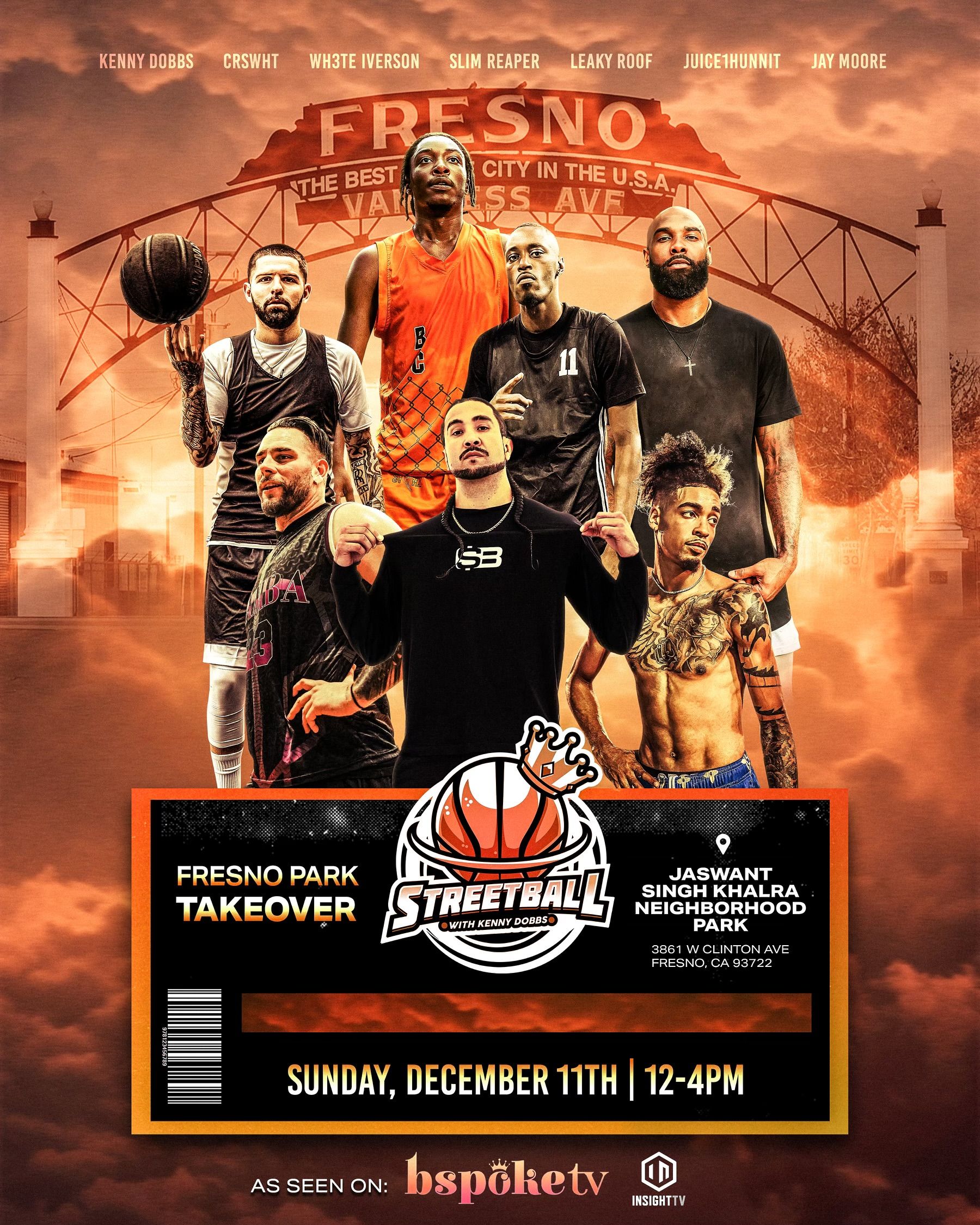 LOS ANGELES, CA - bspoketv and Insight TV have partnered together to deliver a new series, "Streetball with Kenny Dobbs" that takes a detailed look into the new Streetball revolution. The series will take in depth looks into the players, both past and present, the rich culture, and the communities that breathe life into the parks and embrace the game. The new series will follow Kenny Dobbs and his friends as they travel the country playing against the best local talent that each city has to offer, with scheduled stops in Fresno CA, Los Angeles CA, Las Vegas NV, Phoenix AZ, Houston TX, Atlanta GA, New Orleans LA, Orlando FL, Miami FL and end in the Streetball MECCA New York NY. This series is about the players and the communities bringing their stories to life and sharing them with the world. This fast-paced show will be filled with both heartwarming tales and trash talking, rim rattling action of the game.
Hosted by Kenny Dobbs, who is recognized globally as the "BEST SLAM DUNK ARTIST IN THE WORLD", The new series will take you on the journey with seven of the most colorful and talented Streetball players as they travel across the country taking on all comers. Kenny will be joined by "WH3TE IVERSON", "CRSWHT", "SLIM REAPER", "LEAKY ROOF", "JUICE 1HUNNIT" and "JAY MOORE" on this journey into the world of Streetball. Kenny and the crew will be joined by special guests along the way including many Streetball legends who will share their history and perspective on this new generation of hoopers.
"Streetball With Kenny Dobbs" will begin shooting in Dec 2022 and will air on bspoketv and Insight TV in the Spring 2023.
"Streetball With Kenny Dobbs" is produced by bspoketv and Insight TV. Shawn Sanford, Michael Dutcher, and Rob Hess from bspoketv serve as the Executive Producers and Jonathan Roberts as a Producer. Jervis Cole, Matthew Renteria, Kenny Dobbs, Justin Mach will also serve as Executive Producers and Alexander Rowe will Executive Produce for Insight TV. Ronnie Forchheimer will Direct and Produce the series and award-winning cinematographer William Roach will be the Director of Photography.
--ENDS--
About bspoketv:
bspoketv is a free AD supported TV network that focuses on non-scripted life[style] programming. With innovative technology and creative flexibility bspoketv is a one-of-a-kind network for artists/creators and brands. bspoketv's life[style] programming centers around activities, interests and aspirations of the viewers catering to their current and desired Lifestyle. bspoketv non –scripted programs cover relationships, family, friends, beauty, fashion, success, conversation, humor, creation, adventure, and all points in between; connecting with the diverse values and goals of our audience.
About Insight TV:
Based in Amsterdam and with offices in New York and Los Angeles, Insight TV is a leading Millennial and Gen-Z global broadcaster, distributor, and channel operator. The company operates linear channels – INULTRA, and INPLUS, which is also distributed through Smart TV and OTT platforms as well as via www.watchinsight.tv SVOD. Insight TV also operates and distributes a suite of digital channels, including the millennial lifestyle channel INFAST, short-form content channel INBITES, action and sports channel INTROUBLE, science, and tech channel INWONDER, and nature and wildlife channel INWILD (co-venture with Off the Fence), and the latest music and lifestyle channel, INSPOTLIGHT. Currently, Insight TV channels are available on more than 176 platforms across 54 different countries in 12 languages. Specializing in story-driven content for millennial and Gen-Z audiences, Insight TV's original programming seeks to connect global communities through authentic voices and global influencers. Insight TV has partnered with prestigious global brands and broadcasters such as BBC Three, Red Bull Media House, G2 Esports, VICE Media, BT Sport, and others to co-produce series filmed around the world. All content is filmed in vivid 4K UHD HDR and is available both in 4K UHD and HD to MVPDs, OTT, and mobile video platforms.