FAST & FURIOUS STAR SUNG KANG TO EXPLORE THE RIDE LIFE ON INSIGHT TV
Insight TV, Beach House Pictures, Bros Studio and Raison D'Etre Stories Begin Production on the Multi-Country Car Culture Series
October 16, 2023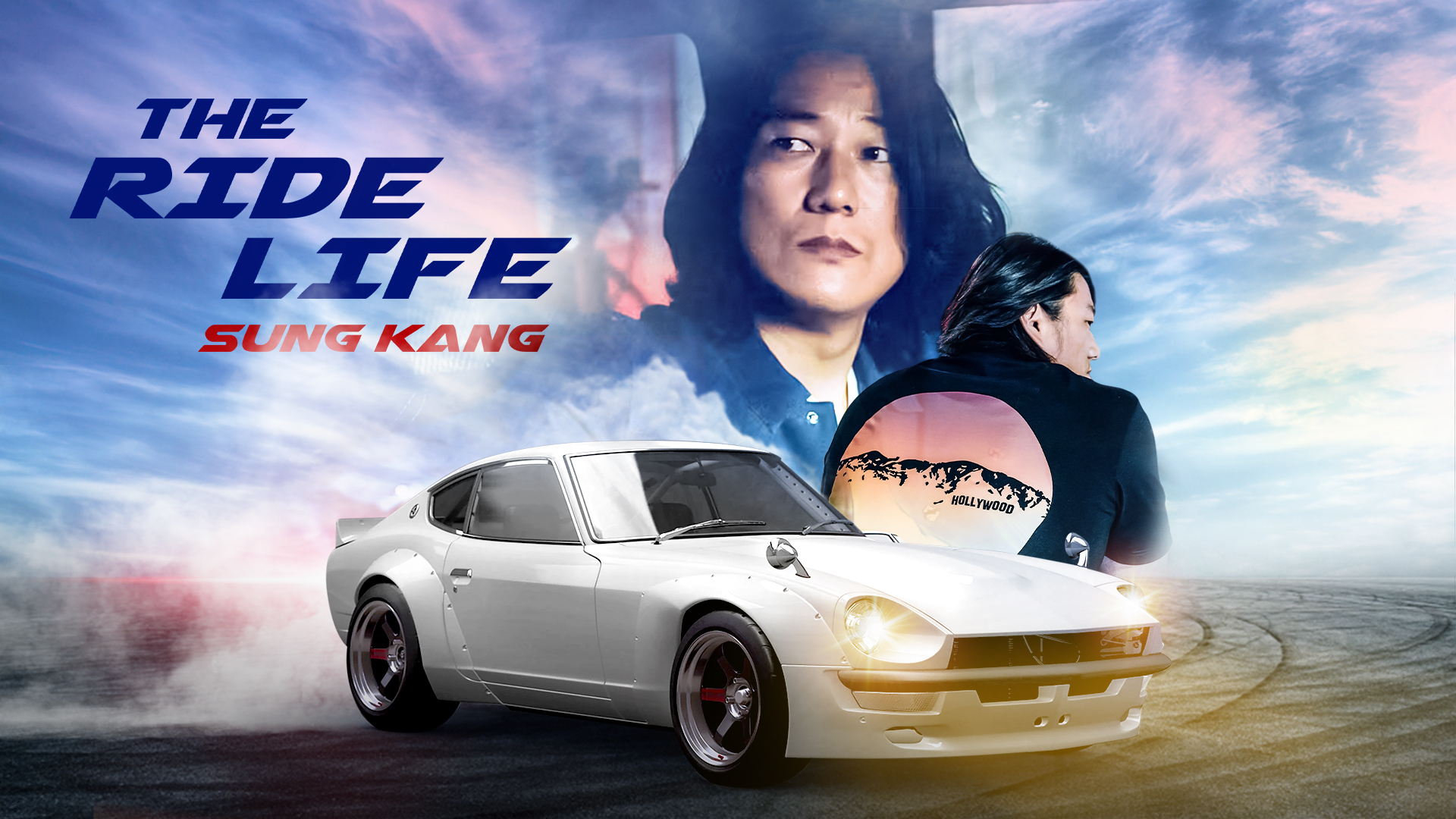 CANNES: Mipcom - October 16, 2023  Insight TV, the leading millennial-focused global channel operator, is announcing the start of production on a new automotive travel show THE RIDE LIFE WITH SUNG KANG,  featuring the star of the global hit movie franchise Fast & Furious. ​ A co-production between Insight TV, Beach House Pictures, Bros Studio and Raison D'Etre Stories, the series is filming across diverse locations including the UK, Poland, Korea, the US and Japan. THE RIDE LIFE WITH SUNG KANG will be available for broadcast by mid-summer 2024. 
Spearheaded by Sung Kang, renowned for his roles as Han Lue in the Fast & Furious franchise and as Fifth Brother in the Obi-Wan Kenobi series, THE RIDE LIFE WITH SUNG KANG takes viewers on a global quest unlike any other, accessing extraordinary car communities, revving up the coolest and rarest vehicles, while deepening our understanding about the special relationship between man and machine. ​ The six-part series aims to change the way we view the automobile, appreciate its power to connect with people, and bring the world closer together in more meaningful ways than just a mode of transportation. 
Kang's journey takes him into the bustling car capitals of the world including London, Tokyo, Los Angeles, and Seoul, and into the heart of lesser-known car communities in Chicago and Warsaw. ​ Guided by his passionate quest for car knowledge and unquenchable curiosity, each episode reveals fascinating insights and narratives from individuals deeply connected to their cars, communities, and cities. 
"Many of the motoring shows that we love showcase beautiful, powerful, and one-of-a-kind cars. THE RIDE LIFE WITH SUNG KANG will definitely not disappoint there, but we're also very fortunate to have Sung introduce our global audience to his lifetime passion for cars, his interactions with the communities that revere them, and his unique view of the world. ​ We are excited to be working with the great team at Beach House Pictures again and to collaborate with Bros Studio and Raison D'Etre Stories for the first time." ​ Michael O'Connor, VP of Production and Content, Insight TV. ​ 
"Far more than just awesome cars, THE RIDE LIFE WITH SUNG KANG is a new, and exciting way of investigating the impact of cars on humanity since it first entered our lives over 130 years ago. ​ We literally can't live without it today, but what does it really mean to us and our communities and what does the future hold?" said Donovan Chan, Creative Director, Beach House Pictures."Sung and I connected immediately on the timeliness of this story and its potential to inspire so we look forward to sharing it with audiences worldwide."
"We are very excited to be partnering with Insight TV, Beach House and Raison D'Etre Stories to share THE RIDE LIFE WITH SUNG KANG with the rest of the world. ​ Sung's natural ability to connect with people from all backgrounds is what makes this series so special. ​ Fast cars, classic cars, supercars, even every day cars - the show will feature them all. ​ But it is the stories of the cars' owners that will make it so compelling and entertaining. ​ Fasten your seat belts and get ready for THE RIDE LIFE WITH SUNG KANG," said Bros Studio Co-Founder Joseph Jang.
"Sung and I have travelled together to a lot of places and at every stop people feel compelled to tell him about their cars. ​ Sung is a naturally curious person with a passion for cars and a real love for meeting new people, traits which blend organically into great story sharing as he ends up in garages talking about cars, life, and everything in between. That's the origin story of THE RIDE LIFE WITH SUNG KANG. ​ We're thrilled that together with our partners Beach House, Insight TV and Bros Studio we have brought our vision and what comes naturally for Sung into this wonderful new TV series," said Brian Yang, Co-Founder of Raison D'Etre Stories.
The series will be available across the range of Insight TV's global channels, reaching over 400+ million households in 56 countries worldwide, across 12 languages, as well as for license to additional channels and platforms around the world.
Michael O'Connor serves as Executive Producer from Insight TV, Donovan Chan and Jocelyn Little are Executive Producers from Beach House Pictures, Joseph Jang is Executive Producer from Bros Studio, and Brian Yang serves as Producer from Raison D'Etre Stories. 
Sung Kang will be attending MIPCOM in support of THE RIDE LIFE WITH SUNG KANG and will be joining in the 'Singapore Hour,' Singapore's largest showcase of quality content, on October 17, 4:00 pm (CET). The Singapore Pavilion is helmed by Singapore's Infocomm Media Development Authority and the booth is at P-1.H51 in the Palais des Festivals.
---ENDS---
---
CONTACT:
In Cannes: Patricia Frith, Patricia Frith Marketing, +1 310 490 - 2368, [email protected]
---
About Insight TV
Based in Amsterdam, Insight TV is the leading Millennial and Gen-Z global broadcaster, distributor, and channel operator, and is available on over 178 platforms, across 56 Countries, in 12 languages. Focussed on real life, story-driven content across multiple genres and verticals. Insight TV aims to inspire and represent global audiences with a universal appeal. With offices in New York, Los Angeles, London, Dubai and Beijing, Insight TV has a global reach, influence and resources. Insight TV's linear flagship channels include: INULTRA (4K UHD) and INPLUS (HD). as well as a suite of digital channels that include, INFAST (Lifestyle), INTROUBLE (Action & Sports), INWONDER (Science & Technology), INWILD (Nature & Wildlife co-venture with Off the Fence), and INSPOTLIGHT (Music & Lifestyle). Insight TV partners and works with the biggest brands and media in the world including: Red Bull, BBC, G2, Vice, BT Sport, Monster, Vans, Samsung, LG, and others to co-produce series filmed around the world. All content is filmed in vivid 4K UHD HDR and is available both in 4K UHD and HD to MVPDs, OTT, and mobile video platforms and our SVOD platform, IN.TV, that can be seen at watch.insight.tv. 
---
About Beach House Pictures
Founded in 2005 by producers Donovan Chan and Jocelyn Little, Beach House Pictures is headquartered in Singapore and is one of Asia's largest independent TV & Film production companies, with a base in China and partners across Southeast Asia, Korea, Japan and India. BHP is a unique multi-cultural and multi-genre expert that has found commercial success in different key markets from the US to Asia. It specialises in creating and co-financing original IP across scripted, factual, unscripted and branded programming for regional and international platforms such as Netflix, Amazon Prime and Warner Bros Discovery, including Chinese platforms such as Youku, Bilibili and Tencent, producing popular premium shows such as Emmy® nominated Netflix lifestyle series MIND YOUR MANNERS (Netflix), Netflix Global Top 5 true crime doc MISSING: THE LUCIE BLACKMAN CASE, Netflix S.E.A. Top 10 scripted series MR MIDNIGHT, Netflix Korea Top 5 true crime series THE RAINCOAT KILLER, the Grierson Awards nominated science series EVOLVE (Curiosity, Amazon Prime), the exciting new exploration series LIFT THE ICE (Curiosity), highly rated wildlife drama OTTER DYNASTY (Max/Discovery+, Love Nature) and long-running franchises MASTERCHEF SINGAPORE (MediaCorp), BAKE OFF JAPAN (Amazon Prime), ED STAFFORD: FIRST MAN OUT (Discovery+, Bilibili) and WILD CITY with DAVID ATTENBOROUGH (Netflix, Sky, BBC America). BHP is in development on a premium Asian scripted action series CLEOPATRA WONG and has new scripted development deals with Canal+, Studiocanal, Viu and Amazon Prime. An ultimate blend of the best of East and West, BHP is currently repped by Anonymous Content. ​ 
---
About Bros Studio
Bros Studio is a Korean American talent management and content production media and entertainment company. In development are both scripted and non-scripted shows featuring top talent from both Korea and abroad. Bros' talent roster includes high profile Hollywood talent, Academy award winning directors, and up and coming talent in Korea. Based in Seoul and Los Angeles, Bros' emphasis is on cross border content, acting as a bridge between Korea & Hollywood and the rest of the world. ​ The company is founded by four co-founders, Jae Man Choi, Kevin Lee, Joseph Jang, and Liana Kim. all who bring a wealth of experience in both talent management and content production.
---
About Raison D'Etre Stories
Raison D'Etre Stories is filmmaker / actor Sung Kang's production company. ​ His producing partner Brian Yang has had extensive experience producing narrative and documentary films (Snakehead - 2021 Toronto International Film Festival, Linsanity - 2013 Sundance Film Festival), episodic, and podcast content inside the US and across Asia. ​ As a company, their first feature film was Kang's directorial debut called Shaky Shivers, a horror-comedy which was an homage to 80s horror films Kang grew up on. ​ Raison has recently launched a podcast called Car Stories With Sung Kang And Emelia Hartford on the iHeartRadio platform this fall.