INTRAVEL LANDS AT WORLD TRAVEL MARKET
Lights, Camera, Adventure! The Power of Media in Travel 
November 1, 2023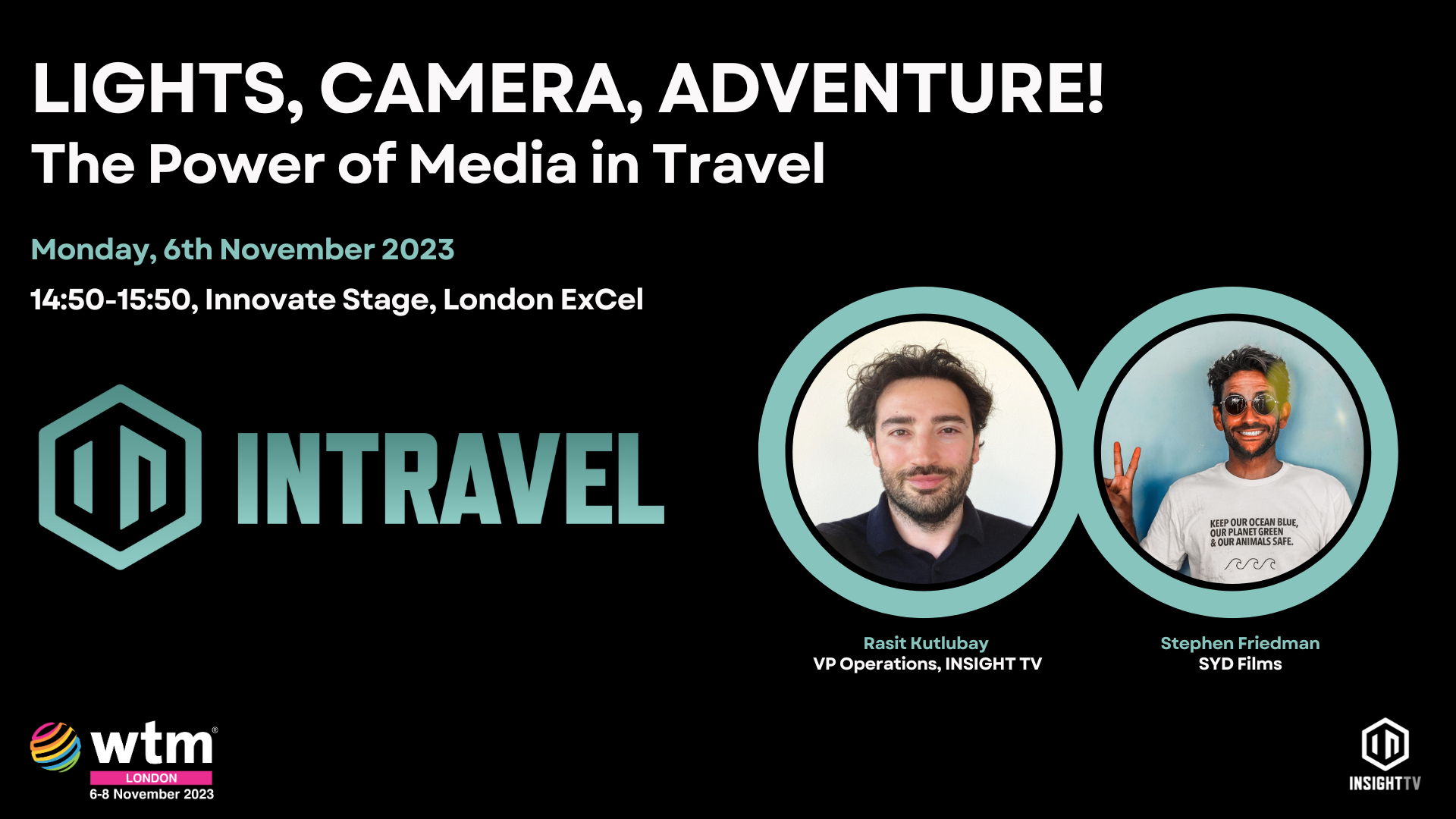 (1st November 2023 – Amsterdam), Insight TV, the leading millennial-focused global channel operator and content producer is unveiling it's latest channel, INTRAVEL at the World Travel Market (WTM) at London ExCel (6-8th November), showcasing an innovative approach to authentic travel content and marketing, reorganising the way tourism boards can connect with their audiences.
For tourist boards seeking to amplify their reach, INTRAVEL offers an all-encompassing 360-degree approach to destination-focused original content, delivering entertainment and storytelling seamlessly on various travel focused touch-points across: TV, social, outdoor, and the digital realms, by partnering with SYD Films, Jungle Creations, Steller, WTM, Travel Video Awards (TVAs) and Schiphol Media to ensure maximum exposure and engagement.
INTRAVEL invites industry professionals, tourism boards, and travel enthusiasts to explore the future of authentic travel entertainment and marketing, with talks from INSIGHT TV and partners. 
Lights, Camera, Adventure! The Power of Media in Travel
Innovate Stage, London ExCel, Monday, 6th November, 14:50-15:50
Rasit Kutlubay: VP Operations, INSIGHT TV. 
Stephen Friedman: CEO/Founder, SYD FILMS.
Siobhan Mcdade: Managing Director Media, Jungle Creations.
Philip DeBevoise: CEO/Founder TVA's.
Pete Bryant: CEO/Founder, Steller.
Rasit Kutlubay: VP Operations, INSIGHT TV, says:
"We believe in the power of authentic travel content to inspire and engage audiences worldwide. Partnering with industry leaders like SYD Films, Jungle Creations, Steller, and others allows us to deliver a 360-degree approach, changing how tourism boards connect with their audiences. We are thrilled to unveil this innovative approach at the World Travel Market and look forward to shaping the future of travel entertainment and content."
Stephen Friedman, SYD FILMS, says:
"We are incredibly excited to announce INTRAVEL to the world, a cutting-edge channel revolutionising media distribution and storytelling. This marks a new chapter in how we connect with audiences through captivating authentic travel experiences."
INSIGHT TV and partners will be available to discuss collaboration opportunities and demonstrate how INTRAVEL's innovative approach can benefit tourist destinations worldwide. 
---ENDS---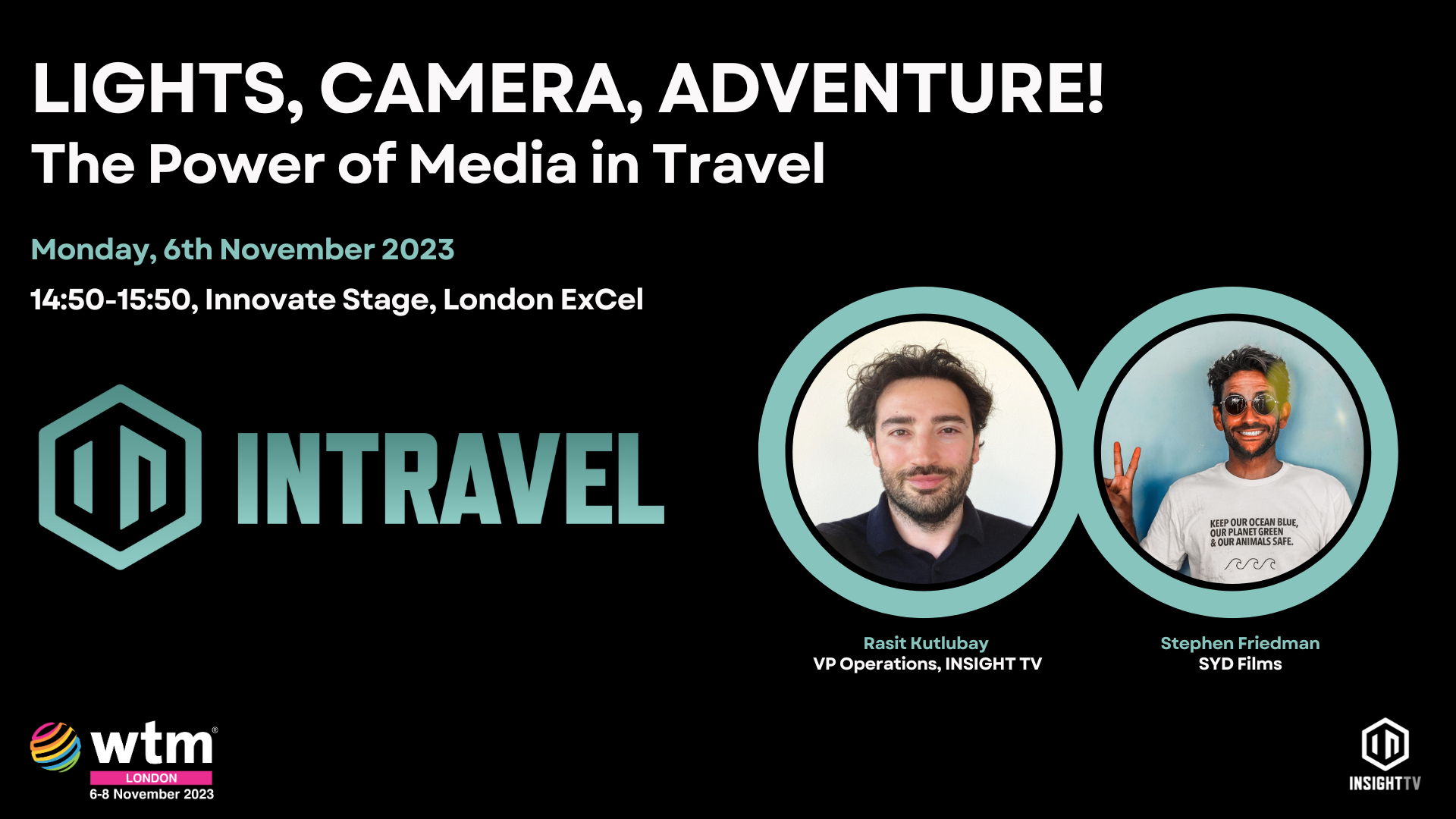 The ultimate destination for global adventures, breathtaking destinations, unforgettable experiences, and a world of connections! Experience the wanderlust and fall In love with travel.
---
CONTACT
---
About INTRAVEL
INTRAVEL is the ultimate adventure for wanderlust-driven Millennials and Gen-Zers, offering a fresh take on travel content. Embark on a journey of exploration, as INTRAVEL takes you to breathtaking destinations, shares unforgettable experiences, and uncovers the heart and soul of connections around the world. INTRAVEL celebrates the beauty of the planet, one adventure at a time, so see the worlds vibrant cultures, check out the mouthwatering local cuisine, and feel connections that transcend borders. Experience the wanderlust and fall In love with travel.
---
About SYDF (Save Your Day Films) 
Save Your Day Films is a television and film production company based in London, which was founded by Stephen Friedman in 2009. With strong footprint in the UK, Europe and Asian markets, Save Your Day Films opened up a sister company branch in Los Angeles USA to expand and grow even further. We develop, produce, distribute and offer consultation services on television and film projects. Save Your Day Films strives to bring a unique touch to documentaries, short films, TV shows and scripted series while reflecting the spirit of the project in the best way possible. Being in the industry for over a decade now, SYDF has worked with renowned international TV networks such as Fox, Nat Geo, NBC, Travel Channel, Ovation TV, Journy TV, Discovery, MTV, BBC and ITV to name a few.
---
About Jungle Creations
Jungle Creations is an award-winning social publisher and publisher-powered social agency, leveraging its expertise in communities, creators, and content to help brands build communities and break into culture. Jungle owns a portfolio of social-born media brands, including Twisted, Craft Factory and Four Nine, that create and publish original content to over 147 million followers. Jungle provides a unique offering to creators via Jungle Creators, Jungle's full-service creator agency. Jungle is also home to The Wild by Jungle, its publisher-powered social agency that offers unrivalled client-direct services and partnerships for global brands including Kraft Heinz, PepsiCo, Superdrug and Red Bull. Jungle Creations is truly 'A Space for What's Next', with a track-record for creative ingenuity and storytelling paired with an always-on access to cultural insights through its owned-audiences.
---
About Steller
Steller, founded in 2014 and headquartered in Kirkland, Wash., is the market leading travel discovery platform that seamlessly guides travelers from inspiration to planning and booking through the authentic experiences of their favorite creators. Steller's player distributes experiences in more than 1,000 destinations to a worldwide travel audience through their exclusive partnerships with leading search engines and travel booking sites. Nearly 5 million hotels from around the globe can be found and booked on the Steller app. Learn more at www.steller.co.
---
About the Travel Video Awards (TVAs)
The Travel Video Awards (TVAs) honor the best videos and films created by independent filmmakers, social media influencers, travel industry, lifestyle brands and media companies. The TVAs have received over 2,500 video submissions from a global community of creators and brands representing 55 countries. Over 700 people have attended panels held by the TVAs and over 500 guests have attended the awards shows (VIP invite-only). 100+ brands worldwide have participated in and/or sponsored the TVAs including Marriott, Tourism Australia, American Airlines, Etihad Airways, Princess Cruises, W Hotels, ProColombia Tourism, Croatian National Tourist Office, Travel + Leisure Magazine, CNN, Land Rover, Samsung, Copa Airlines, United Airlines, Aman Resorts, Mercedes-Benz, Brand USA and Discovery Channel, among others. In 2023, through partnerships, including Insight TV/INTRAVEL, the TVAs have expanded their video distribution network which now reaches, on a monthly basis, over 60M people worldwide. Philip DeBevoise, [email protected], +1 310-709-8158
---
About WTM
World Travel Market London is home to the world's travel trade - the most influential travel and tourism event globally. WTM London brings together the international leisure travel community; providing inspiration, education, sourcing, and benchmarking to travel professionals while providing exhibitors a place to do business and showcase their services to the international press.​ In 2022, WTM welcomed over 35,000 professionals from 184 countries. WTM is the easiest, most resourceful place in travel to get networked, saving time, money, and effort on the way. Exhibitors at WTM London provide the most comprehensive gathering of organisations wishing to do business within B2B travel and tourism. From destinations to experiences to transportation to accommodation to technology solutions, it's all covered. Visitors to World Travel Market are travel professionals seeking to build unique & competitive world-class travel experiences to package up and sell onto consumers. WTM sees the largest gathering of global media under one roof for the travel trade annually – the place to stay ahead of what's new and inspiring in the world of leisure travel.
---
About Schiphol Media 
With over a million visitors per week, Schiphol ranks among the top airports in Europe, making it a desirable location for brands to showcase themselves. Schiphol's premium out-of-home offerings, including analog media, digital media, and promo locations, provide unique opportunities for advertisers. National and international brands like Bacardi, Chanel, and ING choose to have a prominent presence at this exclusive location to increase brand awareness or boost sales. Schiphol's media networks consist of media in Amsterdam Airport Schiphol, Eindhoven Airport, and Rotterdam the Hague Airport, allowing brands to reach their audiences in all major airports of the Netherlands.