INTROUBLE SCORES LAUNCH ON OTT PLATFORM SPORTSTRIBAL
INSIGHT TV's Action Sports & Lifestyle FAST Channel is now Available From The 24/7 Free Sports Provider.
August 30, 2022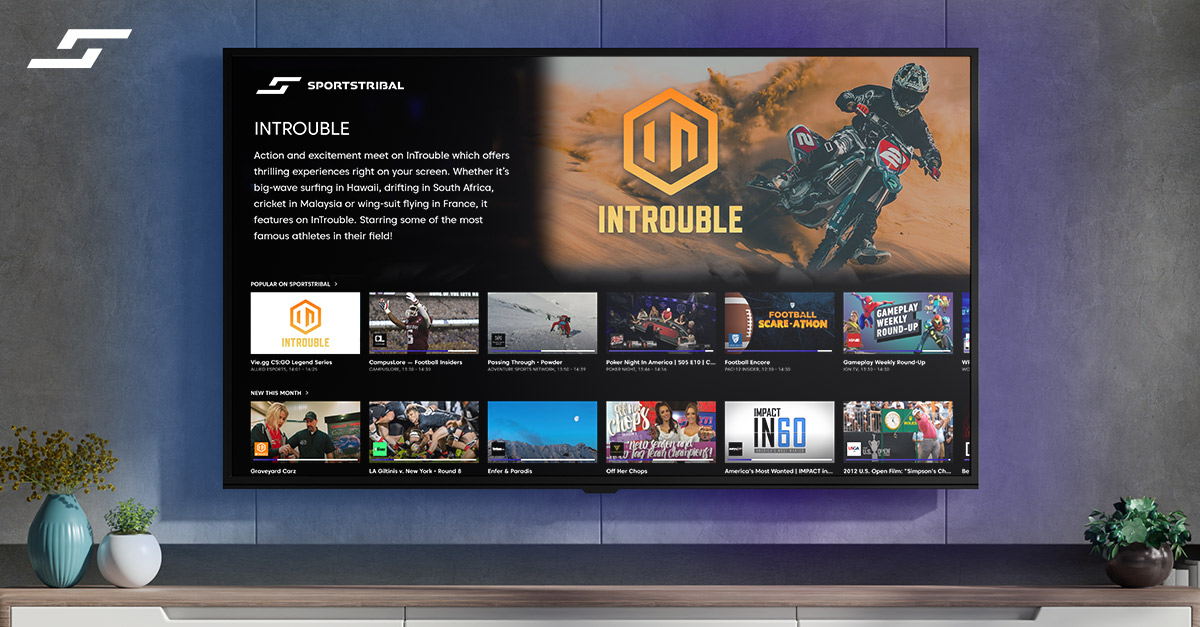 (Amsterdam, 26th August, 2022) ​ Insight TV, the leading millennial-focused global channel operator and content producer, today announced that it has partnered with the free 24/7 sports streaming service, SportsTribal, to add INTROUBLE, Insight TV's action-sports FAST (Free Advertising Supported Television) channel, to the platform across Europe.
Passionate action-sport fans can now watch INTROUBLE on the SportsTribal platform without subscription via the SportsTribal website, or by downloading the free app on smartphone, tablet or via a variety of smart TV's, such as Samsung, LG and Panasonic. ​
The move comes as part of Insight TV's growth strategy to reach new Millennial and Gen-Z audiences around the world wherever they watch. Popular Insight TV productions: Extreme Iceland, Chasing Monsters, Supercar Blondie, MTB Heroes, Masters of Dirt, and Morbidelli Rising, and many more will now be available for all SportsTribal viewers to access.
INTROUBLE is the latest channel to join SportsTribal's growing offering of more than 40 ad-supported streaming sports TV channels, which includes the US Golf Association, Pac-12 Insider, Impact Wrestling and many more.
Natalie Boot, VP Media Sales & Insight TV Studios U.S
"SportsTribal is a great partner for Insight TV, and we are excited to see the INTROUBLE channel reach new Millennial and Gen-Z audiences in Europe. SportTribal is becoming a must-have service for European sport fans and we're thrilled to be bringing the best Millennial action sports and lifestyle content to their platform."
Joe Nilsson, Chief Commercial Officer of SportsTribal
"Insight TV's programming values and approach to market complements that of SportsTribal and our growing audience. With the addition of InTrouble, action sports is becoming a strong vertical category on our service, with fans able to watch seven channels on SportsTribal catering to this segment, completely free." 
---
---ENDS---
About Insight TV
Based in Amsterdam and with offices in New York and Los Angeles, Insight TV is a global channel provider, content producer, distributor, and format seller. The company operates a linear channel Insight TV, which is also distributed through Smart TV and OTT platforms as well as via www.watchinsight.tv SVOD. Insight TV also operates and distributes a suite of digital channels, including the millennial lifestyle channel Insight TV, short-form content channel INBITES, action sports channel INTROUBLE, science, and tech channel INWONDER, and nature and wildlife channel INWILD, which is a co-venture with Off the Fence. Currently, Insight TV channels are available on more than 120 platforms across 53 different countries in 12 languages. Specialising in story-driven content for millennial and Gen-Z audiences, Insight TV's original programming seeks to connect global communities through authentic voices and global influencers. Insight TV has partnered with prestigious global brands and broadcasters such as BBC Three, Red Bull Media House, G2 Esports, VICE Media, BT Sport, and others to co-produce series filmed around the world. All content is filmed in vivid 4K UHD HDR and is available both in 4K UHD and HD to MVPDs, OTT, and mobile video platforms. www.watchinsight.tv / Twitter / LinkedIn / Instagram / Facebook / YouTube.
About SportsTribal TV
SportsTribal is a free, ad-supported, sports streaming TV service (FAST), available across multiple devices (OTT). Our service includes a wide range of 24/7 sports focused TV channels and live events from around the world. We are a fast-paced start-up that operates at the intersection of sports, broadcasting, advertising, and technology, and at our core we are passionate sports fans. 
As a direct-to-consumer platform, SportsTribal is dedicated to making it easy for fans to watch the sports they love, for free, on TV, while discovering something new.
Web SportsTribal ​ | ​ Watch SportsTribal ​ | ​ LinkedIn SportsTribal